Edward Schillebeeckx 100 Conference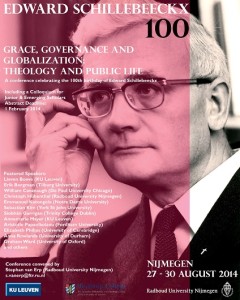 Grace, Governance and Globalization. Theology and Public Life
Edward Schillebeeckx Centenary Conference
Radboud University Nijmegen, the Netherlands
27 – 30 August 2014
From August 27th-30th 2014, a theological conference will be held in honour of Edward Schillebeeckx' 100th birthday. The conference is organized by the Faculty of Philosophy, Theology and Religious Studies of the Radboud University Nijmegen in collaboration with the Faculty of Theology and Religious Studies of the Catholic University Leuven, Heythrop College London, and the Edward Schillebeeckx Foundation.
Key note speakers include Lieven Boeve, Erik Borgman, William Cavanaugh, Siobhán Garrigan, Emmanuel Katongole, Sebastian Kim, Annemarie Mayer, Aristotle Papanikolau, Elizabeth Phillips, Anna Rowlands and Graham Ward, and many others.
Click here for more information and registration.
all of which were street affiliated
woolrich parka
Testing An ISDN Connection Without Pings